Secure your gadget of the future today!
Waltech Vision 2.0, the pinnacle of innovation, is now available for pre-order, and it's not just an upgrade, it's a game-changer!
Why is Waltech Vision 2.0 better than the rest?
A Smart Thermostat

Manage your AC, heater, and fan from anywhere in the world. Ensure your RV remains perfectly cozy. Now with enhanced manual and automatic modes. Don't just adjust; command your comfort!

A Smart Assistant

Connect with various Bluetooth devices. Take charge of motion sensors, tank sensors, BLE generators, and more, all from a distance.

*Please note: Bluetooth feature and Smart Assistant capabilities will be rolled out in the 2nd phase via firmware updates.

Advance Pet Monitoring

Keep your furry companions safe, even from a distance. Receive instant alerts for power outages and room temperatures. Adjust the temperature no matter where you are. Your peace of mind is our promise.
No Kidding, Our Innovation KICKS A$$!
A Master Device To Replace All!
Introducing a one-size-fits-all solution to replace most RV thermostats. Our patent-pending feature, exclusive to Waltech Vision 2.0, simplifies your upgrade. Just unplug your old thermostat and connect the wires to Waltech. It's as easy as that!
Check Compatibility
Don't Have Wi-Fi? We've got you!
GLOBAL CONNECTIVITY: Don't have stable Wi-Fi in your camper? Use our built-in global sim card. Our global sim cards automatically connects to the strongest signal available on major networks like T-Mobile, AT&T, and Cellular One. All this for a mere $7.99/month. Stay effortlessly online with Waltech!
Leap Year ahead of the competition!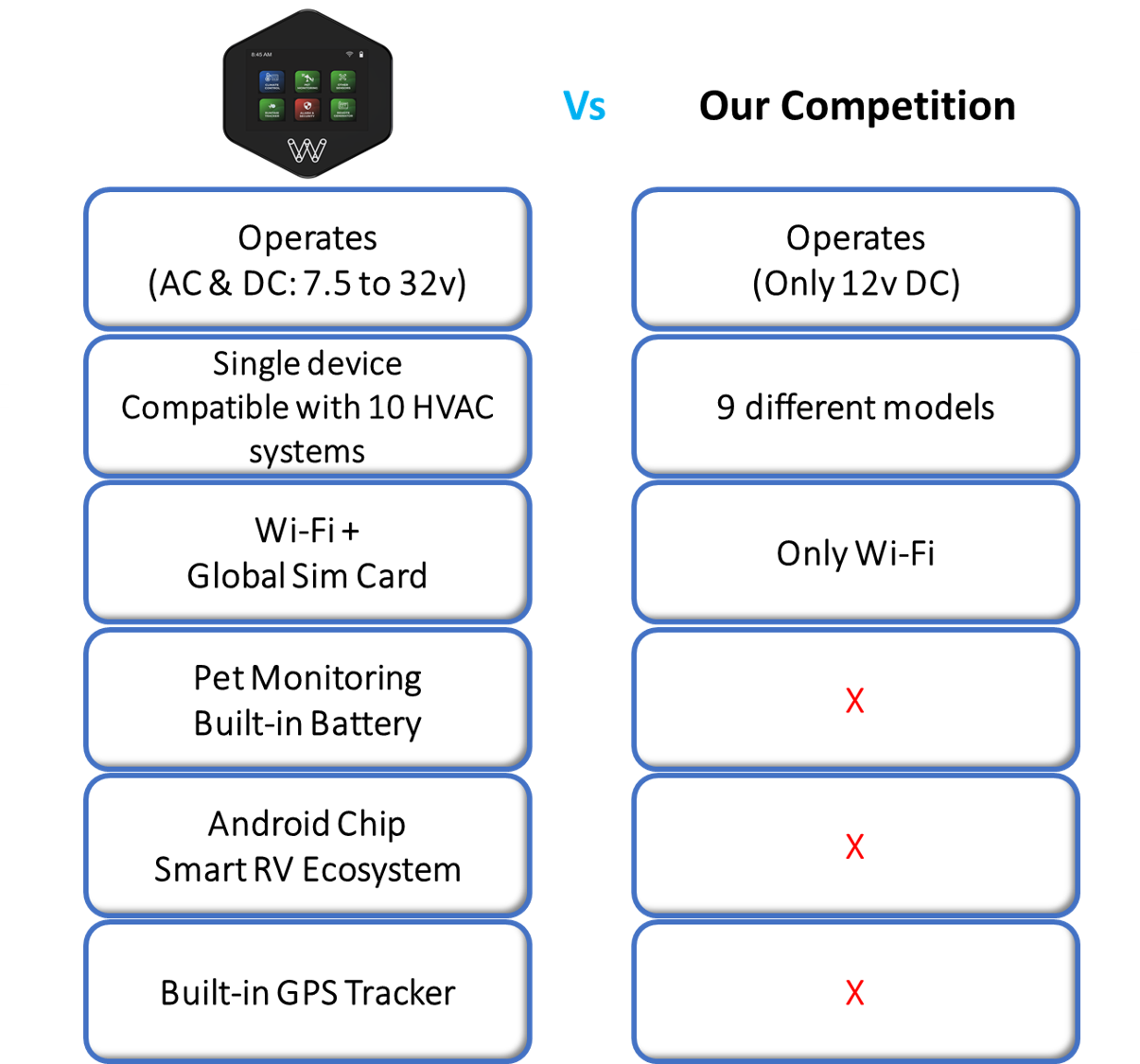 WalTech is built by an RVer, for an RVer, with great attention to details. We have carefully listened to 100s of RV owners like you before crafting each feature.
Truly an ALL-IN-ONE device!
Pre-Order Special and Delivery Date
Batch 1: Ordered before Aug 16th - Expected Delivery Dec 2023 - (SOLD OUT)
Batch 2: After 17th Aug- Expected Delivery Feb 2024 - (Available - closing soon)
PRE-ORDER - Universal Smart Thermostat V2 by Waltech
Regular price
$299.00 USD
Regular price
Sale price
$299.00 USD
Unit price
per
Sale
Sold out
EXPECTED DELIVERY IS FEB 2023 Pre-orders can be canceled at any time within the 60-day period following placement of said order. No cancelations will be allowed after 60 days.
Share
View full details
Don't miss the lowest price offer!
Double the Savings with Waltech!

Opt for the Waltech Double Pack and use the promo code "DOUBLE" to enjoy an extra 15% off when you buy two thermostats. Grab this deal before it's gone!

Triple the Advantage with Waltech!

Choose the Waltech Tri Pack and apply the promo code "TRIPLE" to secure a bonus 20% off on the purchase of three thermostats. Seal this deal while it lasts!
FAQ
When will I get my Waltech 2.0?

We are fulfilling our orders in batches.

If you have ordered Waltech on or before 15th August, you are in Batch-1 and December 2023 is your expected delivery date.

If you have ordered Waltech on or after the 16th of August, you are in Batch-2 and February 2023 is your expected delivery date.
I have three ACs/Heats in different rooms, each with its own thermostat. Can I consolidate and control them all with just one Waltech device, or do I need a separate Waltech for each thermostat?

Unfortunately, consolidating all thermostat functions into one isn't possible. This limitation arises from how your RV's controllers were designed by the manufacturer. We can only emulate those existing functions. Hence, if you're looking to replace all three thermostats, you'll need three separate WalTech units. However, if your primary goal is pet monitoring, simply replacing one should suffice for smart monitoring capabilities.
Is it compatible with my in-command or any other RV-C integrated touch screen panels in my motorhome?

Waltech is designed to replace standalone thermostats. So, if you have an independent unit, it's a fit. However, if your thermostat functions are embedded in touch panels like In-Command, Firefly, or similar systems, then Waltech isn't compatible.
Can I have Verizon as an option instead of your global sim card?

Our team is in the midst of evaluating the Verizon sim card compatibility. As of now, we can't provide a definitive answer. Do subscribe to our email list for updates. We'll keep you posted as soon as we have more information!
When can we expect the release of additional sensors compatible with Waltech 2.0? Will these sensors be Waltech-branded or are they from other existing RV market products?

WalTech 2.0 is not just a thermostat; it's also a Bluetooth hub. This allows you to pair WalTech with an array of Bluetooth devices, from BLE sensors and BLE generators to motion detectors and more. At the moment, we're focusing on harnessing our own hardware's potential. While integration with other products (whether our own or third-party) is on the horizon, it will be a gradual process. These enhancements will be introduced progressively via firmware updates. Stay connected for exciting updates!
How are you planning to connect external remote generators with Waltech?

WalTech 2.0 is more than a thermostat—it's your Bluetooth command center. With it, you can seamlessly link up with a variety of Bluetooth devices, making it easy to integrate WalTech with Bluetooth-equipped generators and starters. Stay tuned, as this functionality is on the horizon with an upcoming firmware update!
Customers are raving about Waltech 1.0's unbeatable quality.
Audre (Wisconsin)

Trixie loves her WalTech thermostat. I love it for peace of mind knowing that I can check the temperature anywhere I am, making sure all my dogs are safe.

Steve (Texas)

My little Tessie Mae is everything to me. I feel she is safe with all Texas weather conditions when I leave her inside the camper while on a hike or a run to the local store. That removes a lot of stress from me.

Greg (Georgia)

Just put in for my upgrade. Version 1.0 has worked great in the driveway for three months straight in the Georgia heat.

Donna (Traveler and full-time RVer)

We are in Canada now and Waltech 1.0 is working well, cellular only, campground Wi-Fi's unreliable. Did have to reset a couple of times to pick up the network, we've been in Saskatchewan for 3 weeks now.
Dan Walsdorf
Founder & President
It all started in my garage. With 30 years as an HVAC expert and a deep love for RVing, I DIY-crafted a way to remotely control my camper's system. But, I found nothing out there for my fellow RV enthusiasts. That's when the spark for the RV Smart Thermostat ignited; imagine adjusting your RV's climate with just a tap on your phone! I shared my vision and DIY prototype with my son-in-law, Rockey. Together we're bringing this dream to RVers across the globe.
WalTech is built for RVers by an RVer!
Rockey Roger
Co-Founder & CEO
We kicked off with a simple survey and the response was astounding. It was clear: RV enthusiasts wanted smarter solutions. With my 15 years at the intersection of technology and operations leadership, we assembled a stellar research team. Launching Waltech 1.0 was our first step, and with invaluable feedback from our growing community, we poured our heart and soul into shaping Waltech 2.0. This is the best the RV industry has seen so far. It isn't just a product – it's the future of RV innovation. And trust us, we're just getting started. Join us on this game-changing journey in the RV world!
Our Support System
Mass Challenge - 2023 Start-up Accelerator

We're thrilled to share that Waltech has been handpicked by one of the U.S.'s top ten startup accelerators. Being part of this expansive global startup network propels our potential to new heights. Onward and upward with Waltech!

Capital Factory - Texas

We're excited to partner with Capital Factory, Texas's leading startup powerhouse. With its rich community of mentors, investors, entrepreneurs, and programmers, Waltech is set to soar to new heights on its path forward. The journey just got more promising!

Texas A&M University's New Ventures Competition - Winner 2023

Our innovations have earned us the prestigious title of victor in the 2023 Texas A&M New Venture competition, solidifying our status as a leader in innovation and earning recognition from experts.